District of Central Saanich Real Estate
Central Saanich
Land of Plenty

Overview
Central Saanich encompasses some of the best features of Vancouver Island living. In addition to the world-renowned Butchart Gardens and other tourist attractions like the Victoria Butterfly Gardens and Island View Beach, Central Saanich offers delicious restaurants, local wineries (and a cidery), stunning coastline, and picturesque productive farmland. The area is conveniently positioned mid-way up the Saanich Inlet allowing for an easy commute into downtown Victoria or to BC Ferries Swartz Bay Terminal, Victoria International Airport (YYJ), and the Washington State Ferry from Sidney to Anacortes and the San Juan Islands.
The roots of this area are in farming, and as development has occurred in both the residential and commercial sectors Central Saanich has been able to maintain a 'farm-to-table' feel with plenty of hobby farms and vineyards. The communities of Brentwood Bay and Saanichton are the most developed, yet are full of character and charm.
Browse All Listings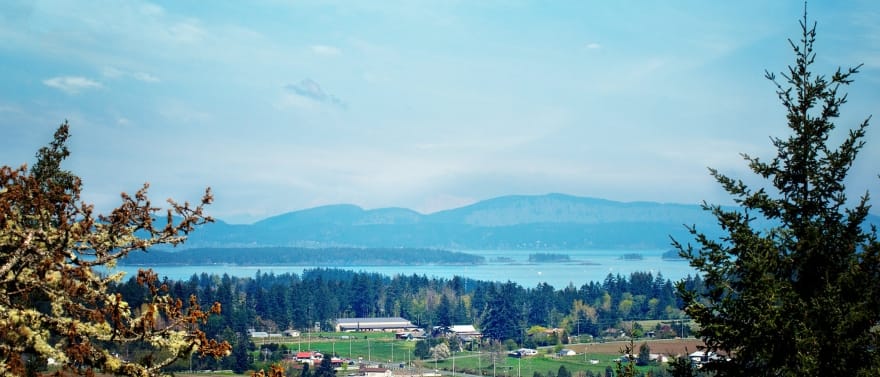 Living in Central Saanich
There really is nowhere better to enjoy West Coast living, and the outdoor activities abound in Central Saanich. Residents have their pick of lazy days picnicking on the coast (Island View Beach is a favourite), hiking through national parks surrounded by mature trees and Garry Oak ecosystems, cycling Lochside Trail, or simply enjoying the local fare from wineries, farmer's markets, or family berry-picking adventures. For those more ocean-inclined, there is endless opportunity for paddling and boating and the region is home to some excellent scuba diving sites.
The commute from Central Saanich to pretty much anywhere is a breeze. Downtown Victoria is within a 20-minute drive, the international airport is within a 5-10 minute drive, and our three different ferry terminals (BC Ferries Swartz Bay - Vancouver or the Gulf Islands, Brentwood Bay - Mill Bay, and Washington State Ferries) are all easily accessible.
For those looking for a community feel, this region is likely to fit the bill. The Saanich Fairgrounds are home to the Saanich Fair annually on Labour Day Weekend, and other great events include the Brentwood Bay Festival, 'Music in the Park' on Wednesday evenings in the summer at Pioneer Park, and the annual Yellow Wolf Inter-tribal Powwow which celebrated its 25th anniversary in 2019.
Neighbourhoods of Central Saanich


Brentwood Bay


Island View


Saanichton


Keating


Hawthorne


Inlet


Martindale


Oldfield


Tanner (Tanner Ridge)


Turgoose


Willis Point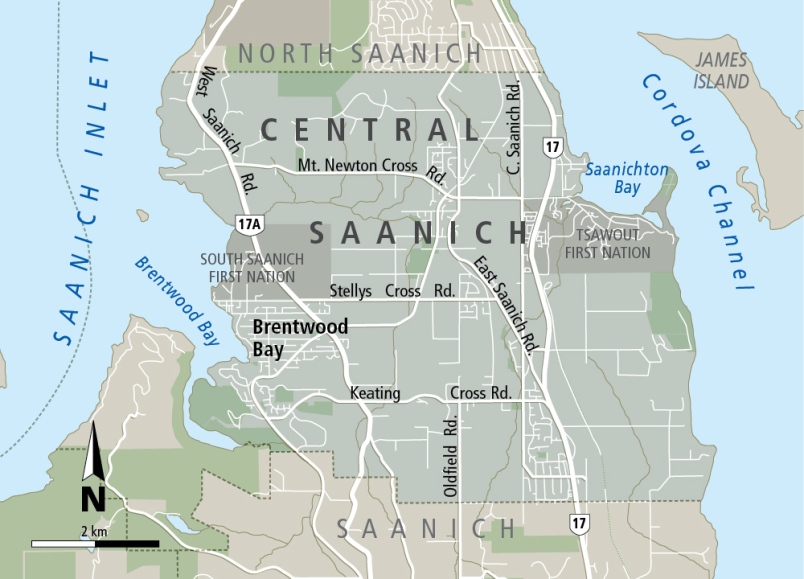 History
To learn about the cultural heritage of the area, the first European families, how a trip from Saanich to Victoria used to be a 4 day canoe excursion, or appreciate the beauty of the Butchart Gardens established by Robert Pim and Jennie Butchart, please click on the link for more information.
The following link will take you to the Central Saanich Community website: Central Saanich History & Heritage
Browse More Recommended Areas
Sotheby's International Realty Canada
Sotheby's International Realty Canada
Coldwell Banker Oceanside Real Estate
District of Central Saanich Listings Summary
District of Central Saanich - Town vs. Region Stats
Avg Price in District of Central Saanich: $4,250,500 / Region Avg $4,250,500
50%
Avg Taxes in District of Central Saanich: $12,600 / Region Avg $12,600
50%
Avg Sq. Ft. in District of Central Saanich: 5,941 / Region Avg 5,941
50%
Avg Price per/sqft in District of Central Saanich:$715 / Region Avg $715
100%
Avg Walkscore in District of Central Saanich: 23 / Region Avg 23
50%
Avg Year Built in District of Central Saanich: 1989 / Region Avg 1989
50%
Avg Days on Website in District of Central Saanich: 72 / Region Avg 72
50%
District of Central Saanich Real Estate Market Health